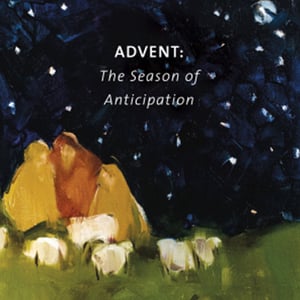 Whether I'm on my way home from work on a cold December evening or sprinting from a meeting that went too long on Science Hill, they always catch my eye as I step into the Golden Center's marble courtyard: STM's 2021 Advent banners. Perhaps you've noticed them as well as you passed by 268 Park Street this December. If not, the image that draws my gaze is featured in this post (and is also the post's header).
Through broad, sweeping strokes of texture and color, you'll notice that there are three shepherds. They are huddled together as if they were one unit, firmly ensconced in the middle of their flock. They seem to be looking at each other while stars dazzle above them in a vast, inky-blue sky. Each time I see this trio of shepherds, I wonder—What they are feeling? What they are saying to each other? Do they know what comes next? Are they feeling joy? Curiosity? Trepidation?
The original image is an oil painting entitled "While Shepherds Watch Their Flock." It was painted by Lynne Millar, an artist and mother of four who lives in Central California. She has a lovely Instagram and a connection to Yale—her husband did his residency at Yale New Haven Hospital. In creating this painting, and reflecting on the nativity story, she felt drawn to the shepherds. "I imagine they were normal, common people, showing up to do their work," she wrote to me earlier this week. "I love that God saw them as worthy of notice—that God sought to draw them into the circle of belonging, into this amazing and transcendent moment [of Christ's birth]."
On this Christmas Eve day, may you like the shepherds feel God drawing you into the amazing and transcendent moment of Christ's birth. And whether you feel joy, curiosity, or even a little trepidation at God's initial embrace and proclamation, know that you are never truly feeling those things alone. Regardless of what comes next, you, your family, your friends, your STM community are all drawn into this moment with you—and oh-so-soon, we shall together be transformed through surprise and love as a baby begins to cry out in the cold, Palestinian night.
And shepherds, who were watching their flocks by night, will go with us to meet him.