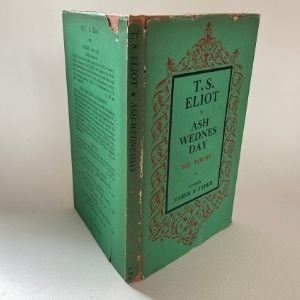 A Reflection for Ash Wednesday
"Because I do not hope to turn again
Because I do not hope
Because I do not hope to turn…"
Long before the ashes are smeared and the myriad of Masses are attended, these words cycle over my morning coffee and my Ash Wednesday begins.
Every year on this day, I listen to "Ash Wednesday" by T.S. Eliot. The approximately fourteen-minute long mp3 I own is read by the author himself, his early twentieth-century Mid-Atlantic accent (with some posh, Oxbridge flourishes) quivering through the pop and crack of a much earlier recording.
Eliot wrote "Ash Wednesday" after converting to Anglo-Catholicism in 1927. The poem, free verse and written in six parts, was published in 1930 and examines the struggles of someone who has allowed the achievements and worries of the world to define them rather than God. The poem is an epic, exhausting journey of "turning" back to God, back to hope, back to a life prioritized well.
There is always a weariness in Eliot's voice as he intones the poem's opening lines, and this year I feel that weariness deeply. After a year of sickness, of death, of separation, of heartbreak, of loss, of longing, of uncertainty, of dreams deferred—can I hope to turn again and face another Lenten season? Especially one that is conducted at a distance and mostly over Zoom/YouTube?
But Eliot is a man of faith, and it seems that in the wake of faith there is always an echo of hope and a calling out to God. Towards the end of the first section, and again in the very last section, Eliot evenly pleads with God to: "Teach us to care and not to care. Teach us to sit still." Here we find the strength to turn: through God. God will help us to find the place of peace between anxiety and apathy. God will help us to sit still.
This Ash Wednesday though changed in so many ways (ashes sprinkled, Masses celebrated online), will begin for me as it always does. I'll still sit in my quiet, sunny kitchen sipping my morning coffee as T.S. Eliot's words surround me. And though our communal journey through Lent will look different this year, it is my hope and my prayer that you will find a few familiar spaces to sit still—and, through the cacophony of sickness, of death, of separation, of heartbreak, of loss, of longing, of uncertainty, of dreams deferred, that God will grant you peace.