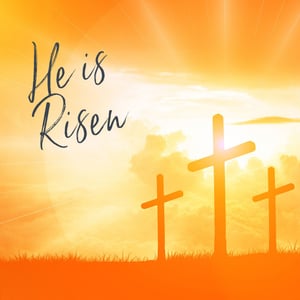 "I am the bread of life;
whoever comes to me will never hunger,
and whoever believes in me will never thirst."
I don't know about you, but I'm completely unable to read Jesus' words today without bursting into song (at least in my head). You know, John Michael Talbot's 1988 classic hymn? If you're not familiar with it—or you want to hear a particularly joyful version—try this on for size. You can thank me later.
Perhaps having this melody stuck in my head today is a great thing. What would it mean to contemplate upon these promises of hope in a time of such profound uncertainty and disruption?
In John's gospel account today, the crowd came to Jesus the very next day after he fed the five thousand. This also must have been a time of uncertainty and disruption. The basic laws of nature and physics seem to have been flipped upside-down. What would you be thinking right now if you had witnessed this miracle yesterday?
Apparently this crowd dropped everything and looked for Jesus. They had been making parallels between this event and the bread that was given to their ancestors by God while wandering through the wilderness. They figured that if this was a sign of Moses being a representative of God, then Jesus must have some handy signs too. And if the events of the past 24 hours weren't enough, Jesus makes another mind-blowing revelation: "I am the bread of life."
This is as if to say, "I'm not here to bring a sign of God, I am the sign." Or, "if you think that bread was miraculous, there's so much more to come."
Stephen's scathing condemnation of the religious leaders in the first reading speaks to a core part of the human condition—our ability to miss the divine, to miss the life-giving currents that flow through our world, even when they're right in front of us. He criticizes a specific group of people at a specific time, but this can be applied to all of us.
Whether it's the Israelites complaining about the bread given to them in the wilderness, or my tendency to miss the ways that God is breaking into my life during this pandemic, we're all capable of mistaking the bread of life present to us here and now as just ordinary, everyday bread.
Where are you being invited to see and be the life-giving bread of Jesus in the ordinary 'stuff' of life today?