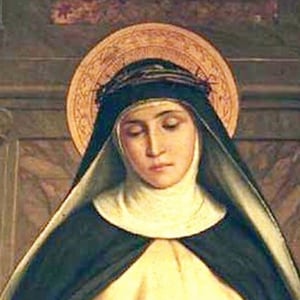 I entered the Dominican Order at 33 years old, the same age St. Catherine of Siena was completing her life and work. Born a twin and the 24th of 25 children, Caterina di Giacomo di Benincasa was raised by her parents in Siena, Italy. It was the 14th Century and much of Europe was overshadowed by the Black Plague.
Catherine is said to have been a happy child, although more than a bit stubborn. When she was expected to marry, Catherine cut off her hair, so as to not be attractive to suitors. She felt deeply called to contemplative life and asked for a room in which to pray. As you might imagine, in a house of 25 children, this was not an easily granted request. She was finally given a room, but with the expectation that she would essentially be a slave to the rest of the family; cooking and cleaning for everyone else.
Catherine's love of Jesus and St. Dominic came though her prayer and study at the local Dominican parish. There, she would look at the stained-glass windows and crucifix. She would ask the Dominican Friars about prayer, God, Dominic and the saints.
Ultimately, Catherine was called to go beyond the cloister of her home and parish. She spoke of the two feet on which we must walk and the two wings with which we must fly: love of God and love of neighbor. This led her to join the mantellata, a group of widowed women who wore the Dominican habit and cared for the poor and sick, which were abundant, given the outbreaks of the Plague. Today, Catherine is seen as a Dominican Nun, a Dominican Sister, a Dominican Laity, a Dominican Associate, although she doesn't fit neatly into any of those categories. She paved her own way, based on her calling: not living the typical cloistered role of women religious at the time, and going far beyond the typical role of the mantellata.
Although illiterate, Catherine dictated a plethora of letters to both Church and world leaders. She felt called to unify the Church and bring peace to Italy, which, at the time, were both in political turmoil. The Pope had moved to France and, after being persuaded by Catherine, moved back to Rome.
Catherine also dictated the Dialogue (her prayerful dialogue with God) and many of her personal prayers to Raymond of Capua, who had originally served as her spiritual director. Over time, she became his spiritual director.
Catherine is a model for women (and men) today. She was deeply faithful to God, which allowed her to challenge unjust structures in Church and society, and was committed to serving the poor and vulnerable. As we celebrate her feast on April 29th, may we live out her words calling us to be advocates for peace and justice rooted in prayer, "Speak as if you had a million voices; it is silence that kills the world."