An Image Reflection for the Saturday of the Third Week of Advent
STM's Assistant Chaplains will share an image and reflect on it each Saturday. Today, Sr. Jenn writes about three figurines of Mary friends have given her over the past several years .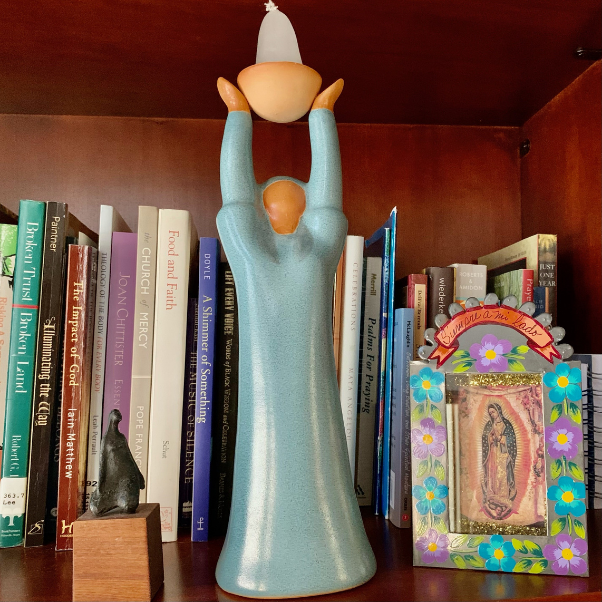 These three figurines were gifts from friends over the past several years.
The first woman, an image of Mary, hands open, and body posturing to hear God's word, but possibly a bit unsettled by what is happening. The second, a woman bearing the light, I imagine as Mary when she proclaims the Magnificat, hands up in praise as she declares a new world order, which we will hear proclaimed in the Gospel next Wednesday. The third, is an image of Our Lady of Guadalupe, clearly pregnant, a woman of her culture surrounded by the beauty of flowers and the words, "Always by my side."
During Advent, I experience all of these aspects of Mary.
I'm open to what God may be asking, even if it is unsettling, or leading in a new direction, as I listen in the quiet of prayer, trying to be open to saying, "Yes."
I hope to challenge the status quo and lift up the lowly, as Mary declares in the Magnificat. It is a time to be aware of my blessings and what I can share with others, being more attentive to the inequalities and injustices of which I am a part, albeit mostly unintentionally.
Like Our Lady of Guadalupe, I enjoy the beauty - sights, sounds and smells - of the season. Evergreens, rather than roses, holiday music and baking are all part of the preparation for Christmas - with God and loved ones by my side.
This Advent, may our anticipation of Christ's birth include openness, transformation of society and appreciation of beauty, which will be fulfilled in a baby, Emmanuel, God With Us.