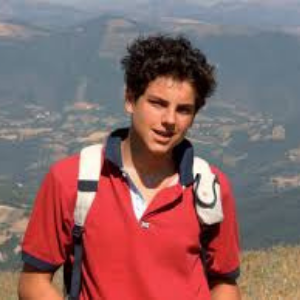 This Thursday at 7pm, Father Ryan will be continuing his "Studying Our Faith: The Saints" discussion series with a talk on Blessed Carlo Acutis. Fr. Ryan will speak with artist Ruben Ferreira, who paints contemporary portraits of the saints, including a beautiful portrait of Carlo. In preparation for this exciting event, let's learn more about Carlo Acutis, who is set to be the first millennial Saint.
Carlo had an interest in religion from a young age, when, at four years old, his late grandmother appeared to him in a dream to request prayer. He got special permission to receive his First Holy Communion earlier than is traditional and became a regular attendee of daily Mass. He even convinced his mother, who was not particularly religious, to attend with him. Before and after Mass, Carlo would take time to reflect at the tabernacle as he grew even more fascinated with the Eucharist. He had a special devotion to Saints Jacinta and Francisco Marto, who, with their cousin Lucia dos Santos, witnessed three apparitions of Our Lady of Fatima and died as children from the 1918 influenza pandemic.
Carlo attended a Jesuit high school in Italy, where he advocated for his bullied peers and offered support for his friends whose parents were divorcing. Throughout middle and high school, Carlo worked on a passion project for which he is well-known: cataloguing all of the Eucharistic miracles around the world in a website. Carlo saw technology as a beautiful way to evangelize, and he has surely done that. You can still visit his website today, and I encourage you to do so—it is a masterpiece! You can access his website here.
At age fifteen, Carlo died of leukemia. He wished to take a pilgrimage to all the sites of known Eucharistic miracles around the world, but he did not have time. After his death, a miracle was attributed to him—and it happened to his own mother! Through Carlo's intercession, she gave birth to twins at age forty-four, exactly four years after his death. Carlo was named a Servant of God in 2013, and then Pope Francis declared him Venerable in 2018. In 2020, Pope Francis confirmed a second miracle, concerning the healing of a young boy with a pancreatic illness after his mother sought Carlo's intercession through a novena. This led to Carlo's beatification, which occurred in October of 2020 in Assisi, Italy, after a slight delay from the COVID-19 pandemic.
Carlo, through his passion for evangelization and gentle imitation of Jesus, serves as an example for us all. May we, too, be filled with the grace to share the Good News through each of our gifts. No one is too young to make a difference.
Blessed Carlo Acutis, pray for us!
Register for Fr. Ryan's discussion on Carlo Acutis with Ruben Ferreira on April 22 at 7pm EST through this link: https://yale.zoom.us/webinar/register/WN_g96lx_C2RgabBvioVrUI7A
And, before the conversation, check out Ruben Ferreira's Instagram.